Following on from Faststream Recruitment's Maritime Employment and Industry Update, we wanted to share with you, the questions that Mark Charman, CEO & Founder and Kelsey Purse, Director of Shipping were asked in the run-up to the webinar.
"How do shore-based professionals in the maritime sector stay relevant for the future?"
Mark Charman: The adage of "job security comes from being employable rather than employed" has never been more true. The key to staying relevant is staying current. You must keep re-inventing yourself. Businesses are under pressure to do this and so must the people who work for them.
You have to stay curious, both inside and outside maritime. Increasingly we see the maritime sector borrowing ideas from other sectors. You need to do the same to keep up.
Learning and development are key, invest in yourself – you are worth it. Consider how you are upskilling yourself in the pandemic? Are you learning about managing and developing your teams remotely? Are you educating yourself on how to communicate most effectively or manage your time between work and your home life?
Maritime is entering a new era of data and technology – you don't have to be an expert if this isn't your job, but you do need to have a broad understanding of what is changing and how it will impact your business.
​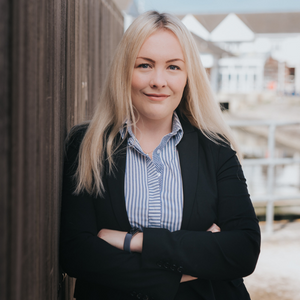 "How can the shipping industry make seafaring careers attractive to attractive to Generation Z?"
Kelsey Purse: It is important to note that what made previous generations happy and attracted them to their careers will not make new generations happy. Competitive pay is a given nowadays. New generations expect home comforts such as Wi-Fi and facilities such as gyms, that older generations may have seen as luxuries.
We see this new workforce bringing an attitude of "What can you do for me? Not what can I do for you?" Their expectations are high on shortening their time at sea and they want to know how you are going to develop them and help them move forward in their career.
As an employer, offering competitive pay, excellent benefits, and clear progression routes through to shore-based positions is in our opinion the best way to attract new generations to a seafaring career.
"How do we remotely onboard new employees and embed them in our culture without time in the team?"
Mark Charman: We see a range of businesses onboarding new employees with varying degrees of success. The best businesses invest time in their new employees. They take the time to share the mission of the business and walk them through their values and culture. 'This is how we do things around here' mentality is important.
Recognising the importance of deliberately over-communicating, especially in the early days, is vital for new employees. Promote extra communication between other team members too.
The first 90 days of a new employee's journey is so important in influencing their future retention in the business. Spend the time now on onboarding them effectively and you will save the time and cost later on needing to hire a replacement.
"For seagoing roles, which roles/skills is there a long-term increase in demand from employers?"
Kelsey Purse: We see substantial skills shortages for experienced LNG and LPG Officers. Specifically, 2nd Engineers and Chief Officer vacancies have been the most critical for our clients to fill. However, this is not a new trend as gas experiences candidates have long been sought after but vacancy numbers have been on the rise in comparison to 2019.
Also, we see an increase in the number of qualified medical personnel needed to work both at sea and in new shore-based positions. This is due to COVID-19 and until a vaccination is found and available to the general population, we see this demand continue into 2021.
"What will the impact of Brexit have on hiring people from outside of the UK?"
Mark Charman: Before the pandemic, Brexit was a hot topic. We saw increased interest in it as the pandemic appeared to be stabilising, but the recent announcements of second waves across Europe have put Brexit on the back burner.
Brexit will not make it any easier to hire, but the silver lining of the crisis is that future-focused companies will grasp the opportunity to employ previously hard to hire talent remotely.
If you would like to read the two reports from the webinar you can do so here: