At Faststream Recruitment, we take pride in the success and ambition of our employees. We caught up with Ellie Evans, a Team Leader of our Marine Division to hear about her successful recruitment career.
​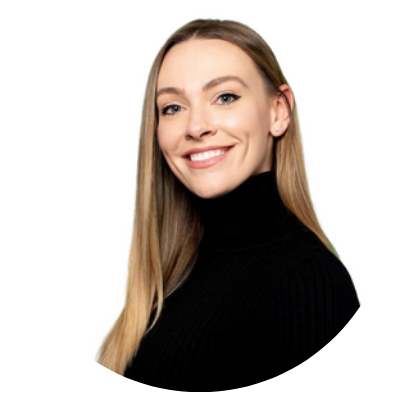 When did you embark on your career with Faststream and what enticed you to apply for the role?
I joined the business in November 2020 after Kelsey Purse, Director of Shipping engaged in a conversation with me on LinkedIn a few months prior. I didn't feel completely fulfilled in my recruitment role at the time and meeting with Kelsey Purse and Adam Graves, Director of Marine gave me a great overview of the opportunities and growth potential at Faststream.
Since joining the business, you have progressed immensely and are now working with many global maritime businesses, what do you attribute to your success?
I believe that it is a blend of being trusted to have full autonomy within my role but also getting support when I need it. I feel heard and valued within my role and this has given me the confidence to grow my desk and continue my professional development.
You are currently managing one of Faststream's key client accounts, who have engaged the business as their exclusive recruitment partner. What skills have you had to leverage to make this relationship as successful as it is? And is there anything that you have learnt along the way?
I have had the unique opportunity of being integrated into their recruitment team, which is incredibly rare. The client views me as a team member, which is fantastic as it demonstrates the true value of the client partnership. I believe that offering my recruitment expertise and adding value has allowed me to have a great deal of influence within our client's recruitment process.
Through this recruitment partnership, I have learned the importance of establishing relationships with different stakeholders within the business. This allows you to know how to communicate in different ways for each situation during the recruitment process.
What are three non-negotiables that you consistently do each week to ensure a successful quarter/period in your division?
At the start of every week, I outline my priorities and each day I get granular with these to set daily objectives. It is important to stay focused and not get distracted, so setting priorities is key.
I also have a clear process that I follow to ensure that the quality of each recruitment process maintains the highest level of service for both clients and candidates. This structured approach is taught across all levels during the Faststream training programmes.
What do you enjoy most about working at Faststream and how would you describe the business culture?
We have a great team culture, everyone gets on well, and there is a close-knit yet respectable and professional atmosphere. There is a culture of high reward, so if you work hard there are a lot of incentives to be had. For example, getting a place in the 'high achiever's club' allows you to dine in Michelin Star restaurants, go on superyachts and much more. We also have company-wide events such as our annual Christmas and summer parties, which are great fun.
How do you see your role progressing within the business over the next 12 months and do you have any goals you would like to achieve?
I have reached my goal to get to Team Leader, so now I will be working towards being promoted to Principal Consultant. At present, I am managing the marine technical division, so I would like to build on these responsibilities.
What advice would you give to someone wanting to progress in their current role and establish a highly successful recruitment career?
You need to value your time and manage it well. You need to understand the importance of working the roles that you know you can support clients with, rather than the ones you can't. When you are taking job specifications from clients, make sure you have a checklist of what you need to find out, so you don't miss any gaps. It is about being efficient and organised.
What advice would you give to yourself if you could go back to your first year in recruitment?
The first year will be tough, it will be a huge learning curve and you will feel like you cannot do it all. But it gets better, and you will soon see the personal and financial rewards if you stick with it.
​
If you're interested in a career with Faststream, please get in touch by filling out the form below.
​
​Martin Bennell announced as keynote speaker at CMA Shipping
With the world-renowned CMA Shipping Conference fast approaching, we are excited to share that Martin Bennell, Managing Director – Europe, Middle East, Africa and the Americas of Faststream Recruit...
​The Cruise Survey 2023 – Take part
​Calling all cruise professionals, the cruise survey is back for its second year, and we would love for you to take part. Take part in the survey here​How long will the survey take? We understand t...
​Maritime and Energy Events to attend in 2023
​2023 is set to be one of the greatest years for events taking place across the diverse world of maritime and energy. We attended many extraordinary events in 2022, but in 2023, we look forward to ...
Superintendent Employment Update - Winter Edition
Listen to this insightFollowing the launch of our Superintendent Report in the summer, we have continued to monitor the trends in employment and recruitment in the superintendent profession from b...
7 Hiring Trends in Shipbroking for 2023
Listen to this insight​The commercial shipping sector is booming, particularly in the world of shipbroking. As a result, we have witnessed the demand for shipbroking professionals reach an exponent...
5 ways to set your new hire up for success
Listen to this insight​Despite common misconceptions, the hiring and onboarding process doesn't end once your new hire has joined you. It's not just the first day, or even the first week that is fu...
Fail to plan, prepare to fail
If you are a maritime leader and succession planning is not the top talking point of your people strategies, you are not alone. Yet, in an ever-changing marketplace, I am becoming a strong advocate...
How and why upskilling can improve career growth in Maritime and Shipping
We live and work in a time where job security no longer comes from being employed, but from being employable. So, how do you remain employable in today's fast-changing maritime sector?Well as the A...
Results from the Naval Architecture Employment Survey 2022 Revealed
In June and July this year, we conducted an extensive, global survey and connected with thousands of Naval Architects and Marine Engineers to gain a unique insight into their views, opinions, and f...
Why do candidates withdraw from job offers?
Let me start by saying that whilst some candidates do withdraw from a job offer, this is not the norm. Changes in the marketplace have influenced some candidates to withdraw from job offers and the...
How to keep your new employee engaged - from job offer to start date
​You have spent time attracting and interviewing candidates. You have made a great job offer, and this has been accepted by your favourite candidate. They have signed the contract, handed in their ...
How to get your job offer accepted
You have put the time and effort into recruiting for your job opening and you have identified the best candidate for your role. Now you are ready to make the job offer that will secure them as a ne...