At Faststream Recruitment, we love to speak with Shipping and Maritime professionals to hear about their careers in Maritime and Shipping. We were delighted to have the opportunity to speak with Anna Vasylchuk, Chief Officer currently onboard Superyacht Big Sky to uncover more about her career journey and future aspirations for her Superyacht career.
​
​When did your superyacht career begin and what enticed you to pursue a career in yachting?
I embarked on my yachting career in 2017, which was a big decision for me as it meant leaving a very stable job in Ukraine. At the time, I was working in the police force as an investigator and was faced with making a life-changing decision. In my heart, I knew it was the right time and I am so glad I took the leap, as I am now in a job that I love. I am so happy that I have found my purpose in what is a truly fulfilling career.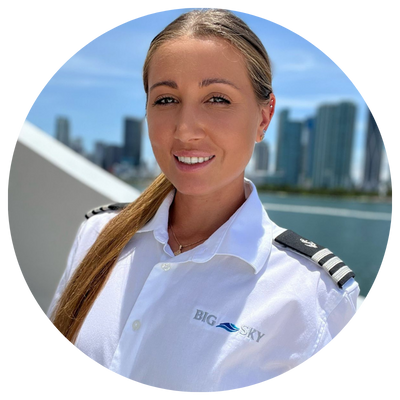 Have you always had a passion for maritime and do you think this is essential to working in the sector?
I think having a passion for any job is important - it makes up most of your life. However, having a passion for maritime is important because it is a career path that requires you to be away from home for prolonged periods. For me, the passion for my job is attributed to meeting new people from diverse cultures, travelling to new places, challenging myself daily and building a successful career.
You have had an impressive yachting career, what has your journey entailed to get to where you are today?
It has been a long journey and it has been challenging but when you have a goal in mind, you can get to where you want to be.
My first yachting job was working on Superyacht Solar, where I tried roles both in the interior and exterior departments. With yachting, it is important to try different roles to get a feel for what you like and don't like. I quickly realised that although I enjoyed working in the interior department, I found myself more challenged and passionate about working with the exterior teams.
I have also gained some key learnings throughout my career and one that I go back to repeatedly is the importance of human skills. In yachting, working with people is a huge part of the job, be that with your colleagues or guests/owners.
It is also fundamental to surround yourself with people that you can learn from, whether that is a mentor or your team. Learning from successful people, who are in the position that you want to be in will help you carve a career path.
Then there is learning from your mistakes and taking actionable steps to move forward. Making mistakes is expected but these mistakes will give you experiences and help you learn real-life lessons.
What are three key attributes you believe it takes to be a successful Chief Officer?
Being authentic with your crew and using your human skills are particularly important, particularly when it comes to the Chief Officer's responsibilities of managing people and cultivating a safe and enjoyable working environment.
The role of a Chief Officer is a heavily team-focused job and so you need to be a team player. This means building respect amongst the crew and with your Captain. With respect comes trust and in turn success in your role. Without this, you will find it impossible to go far in your career.
The way that you communicate is also key. The ability to communicate and build positive, respectful relationships with people is paramount to your success.
Historically the maritime industry has found it hard to attract females, do you think there are any barriers to entry? And do you believe enough is being done to support women in to senior maritime roles?
I believe that the industry has come a long way in providing women with more opportunities to reach senior maritime roles. However, in my lifetime I do think we will still see barriers to entry. Particularly based on geographical location. Throughout my career, I have noticed that different countries are either less or more progressive when it comes to encouraging women to pursue their maritime careers.
Based on my personal experience, Northern America is the most progressive and I have seen more women in senior roles, such as Captain or Chief Officer. Whereas seeking a senior role in other places such as the Middle East and Europe is a lot more challenging, and I believe this is due to certain historical and cultural factors.
For women in maritime, it is important to not compare themselves to their male counterparts. For the industry to move forwards, there needs to be more focus on conscious education and learning.
It can be challenging for women to reach these positions but if you are passionate and persistent about what you do, and have a great team around you, you will be successful.
What is the most rewarding part of your job?
The role of Chief Officer is extremely rewarding and when I get asked this question, I find it hard to choose just one aspect. For me, it is all the individual elements that make the entire job rewarding. Without one part, there is no other part, and they all encompass one another. It is such a diverse and crazy job.
What is the most challenging part of your job?
Although it is the most important, I find communication the most challenging and I think that many people would agree.
In any team, there are different personalities and people like to communicate in diverse ways, so finding a way of communication that suits everyone can be hard. However, with a team that respects one another, it is possible.
What do you think is the biggest misconception surrounding yachting careers?
TV shows, like Below Deck and social media accounts. They glamorise yachting careers. They only show the attractive parts such as the beautiful yachts, the crew looking immaculate, or everyone socialising and partying.
There is a lot more to yachting. It is a professional career path. Of course, as a crew, we have a highly rewarding and lucrative lifestyle, but it does not come without hard work and determination. You need to be mentally strong, be prepared for lack of sleep and above all be resilient.
Some people get into yachting to have fun, but it is important to understand why you are here and what your responsibility is. We are here to work, and we have charter guests or owners who are paying for a luxury experience, which we need to ensure we go beyond to provide.
Working on a superyacht is a high-pressured environment, and you need to be able to work under pressure. It is not easy but if you work hard, you will have an amazing time doing it.
What has been your most memorable career moment to date?
I have had countless amazing memories, but the people are what make it most memorable. Be that your crew or guests. I have one very fond memory of when our Captain gifted everyone something sentimental on our last day of charter. It gave me a feeling of being part of a family and I felt immense appreciation and gratitude for my job.
What size yachts have you worked on?
I started my superyacht career on a 25M+ yacht and went on to work on 43M+ yachts. Now I am delighted to be working as a Chief Officer on Big Sky, which is a beautiful 48M+ yacht.
What are your top three favourite places that you have travelled to through yachting?
Every destination is different, but my favourite would have to be America, a place I was dreaming of visiting when I lived in Europe, especially, Miami and New York. Oh, and the Bahamas.
Where do you see your career taking you in the future?
My dream is to become a Captain, and this is a goal I am working hard to reach in the future. I know that I need to work hard, learn from my Captain and other mentors, and study hard to get all my licenses but it is possible.
What advice would you give to someone trying to secure their first superyacht job?
My advice would always be to not let anything or anyone stop you from going after your goals. The best is yet to come and with patience, determination, and hard work you will get there.
What advice would you give to someone with ambitions to become a Chief Officer?
Most importantly, love what you do and ensure that you surround yourself with the right people, who are just as ambitious as you are and from whom you can learn from.
And do not forget…lots of coffee and croissants help too.
What next?
If you are looking to kick start your yachting career or want to take your career to the next level, at Faststream Recruitment we are dedicated to supporting you to secure your next superyacht job. Make sure you visit our dedicated Superyacht jobs page and register with us today.